Hola Dusseldorf !!! Ya hemos visitado la nueva edición del PSI 2019, la feria de regalo promocional más importante de Europa.
Otro año más nos hemos decidido a dar un paseo por las calles de Dusseldorf y disfrutar del ambiente en las animadas calles del Alstadt, el barrio antiguo que se llena de gente de todo el mundo en época de ferias (o sea, todo el año).
¿El motivo? Pues visitar uno de nuestros principales clientes y asistir a la presentación del nuevo catálogo More than Gifts 2019 de Midocean. Para nosotros es todo un evento y la prueba de fuego para un trabajo en el que hemos puesto nuestros esfuerzos al límite. Es un momento emocionante cuando ves que centenares de personas están ojeando tu trabajo de los 4 últimos e intensos meses, y siempre esperas a ver que caras ponen o que comentarios hacen. En tiempo real, podemos recibir los comentarios del equipo comercial y clientes de Midocean, con los que intentamos intercambiar el máximo de sensaciones y sugerencias.
Otro año más nos vuelve a llenar de orgullo a todo el equipo de A Design Studio el haber realizado un catálogo de esta envergadura, en más de 20 versiones para todo el mercado europeo, y ver que nuestro cliente Midocean sigue confiando cada vez más en nosotros como su estudio de diseño en Barcelona.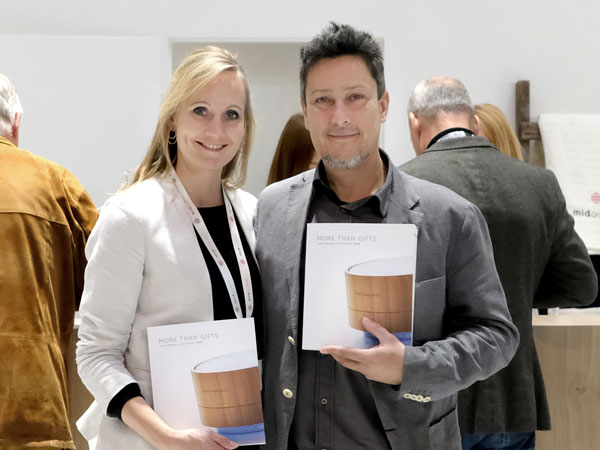 Ya se ha convertido en una tradición anual la foto con Janneke, la directora de marketing de midocean en Holanda.
The photo with Janneke, the marketing director of midocean, has already become an annual tradition.
Read More